Every year I feel like Thanksgiving comes and goes and the next thing you know its Christmas. The month in between seems to fly by and there is never enough time to get everything done. This year I am tackling the holidays early and trying to get most everything done by the first week of December. My first task was finding the perfect holiday dress and I can proudly say mission accomplished!
When looking through my closet I realized I have plenty of spring and summer dresses but nothing that was wintery. I wanted something that was perfect for the holidays without sparkle (I seem to have a lot of sparkle dresses in my closet). I found this amazing dress from Anthropologie and immediately fell in love.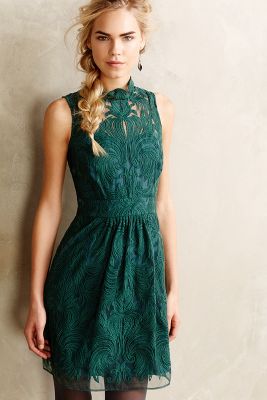 I was unable to find it in the green in the store so I tried on the black version and then ordered the green. (Just a note: I am usually a 2 but had to order the 0 for it to fit properly.) I was thrilled to find the perfect holiday dress but then completely bummed when a day after getting the dress in the mail I got an email with from Anthropologie announcing their 25% off dress and jewelry sale! Thankfully I was able to "return" the dress and buy it back at the sale price – saving $75! Now that's what I call smart shopping!
I also LOVE this red dress and this black dress which are both on sale. The black has a really awesome back!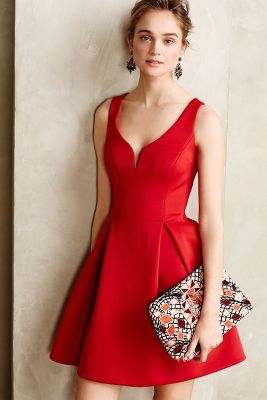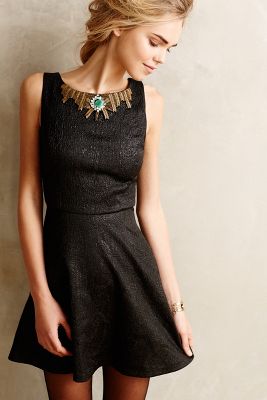 ---
Now that I have a holiday dress it is time for the perfect gifts for friends and family! So here is Part I of my Holiday Gift Guide with everything under $50. 
1. Stocking stuffer Nars lip pencil comes in a variety of colors for every mood.
2. I really love this Kate Spade plate! Its elegant and simple.
3. BaubleBar necklace for any occasion. Whether wearing with a dress or even a fitted tee, this necklace goes with everything!
4. This Old Navy scarf is right on trend! For only $19 this is a killer present!
5. BaubleBar Pave Ring. I have had my eye on these for quite some time. I might have to gift them and get some!
6. I have always loved the Holiday Nest Candle but I just bought the Birchwood Pine Scent Next Candle and my whole life changed. That may be a tad dramatic but it really is a great candle and puts me in the holiday spirit!
7. I need this mug and I know a lot of my friends do too. Sometimes nothing should be said until after the first (or second) cup of coffee!
8. Cards Against Humanity game. This is the perfect White Elephant present! SO much fun and absolutely hysterical.
9. I love this Kendra Scott Ring for only $45! It would go with everything! And if you want to up the budget a little, this ring is absolutely amazing…its $60.
10. The best part about the winter is fun wintery socks! These J.Crew socks are so festive and fun!
11. Loren Hope bracelets are always the perfect present. These are so cute and come in so many fun colors. The crystal color would go with everything.
12. GiGi New York Small Datebook. New year, new datebook! I love the gold in this one.
---
Bonus: I love the show Fixer Upper on HGTV and of course love their online shop Magnolia Market. They have a wide range of home decorating pieces that vary in price as well as really cute jewelry. I absolutely love this pillow cover for only $21!
XOXO